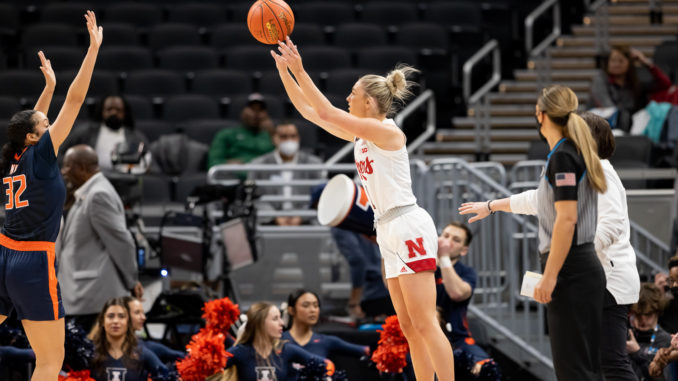 Jaz Shelley and the Nebraska Cornhuskers win big in the final game of night two of the Big Ten Tournament, 92-74 over Illinois. Shelly scored 32 points going 9 for 13 from three-point range. She broke the school record for three tonight passing Natalie Romeo who had eight in 2016. Nebraska as a team had 15 threes and set a new tournament record doing so. Alexis Markowski scored 22 points and had 9 rebounds with three blocks. Nebraska has won 10 of their last 13 games and look ready to upset some teams in the tournament.
Illinois was led by Adalia Mckenzie scoring 18 points and Aaliyah Nye scoring 14 points. Illinois just could not get over the hot shooting of Nebraska tonight,
Tomorrow night Nebraska will face Michigan in the late game which should be a great battle. Here is a link to the photo gallery of Nebraska vs Illinois.