Columbus, Ohio
The No. 15 Buckeyes women's gymnastics team remained undefeated at the Covelli Center by defeating Maryland 197.575 to 196.475. It was a record day for the Ohio State program on beam, with a score of 49.525. Four Ohio States gymnasts racked up scores of 9.900 or better. Redshirt freshman Tory Vetter and super senior Sydney Jennings each earned career highs of 9.925. Senior Ella Hodges and freshman Payton Harris each earned 9.900 to tie for third place. The team also scored season highs on the vault with a 49.300 and finished strong on the floor with a 49.400 on their way to setting the second-highest overall score in the history of the program. 
Ohio's freshman Payton Harris took home the all-around honors with a score of 39.475, and redshirt freshman Tory Vetter posted a 39.375 individual all-around score.    
The Buckeyes are on the road to Champaign to face Illinois on Feb. 13th with a 9 P.M. eastern time start time on the Big Ten Network. 
Photos: Ohio State vs Maryland Photo Gallery
Ohio Team Vault: 49.300  
Tory Vetter – 9.775
Nicole Riccardi – 9.825
Raina Malas – 9.775
Sydney Jennings – 9.900
Payton Harris – 9.900
Elexis Edwards – 9.900
Maryland Team Vault: 49.050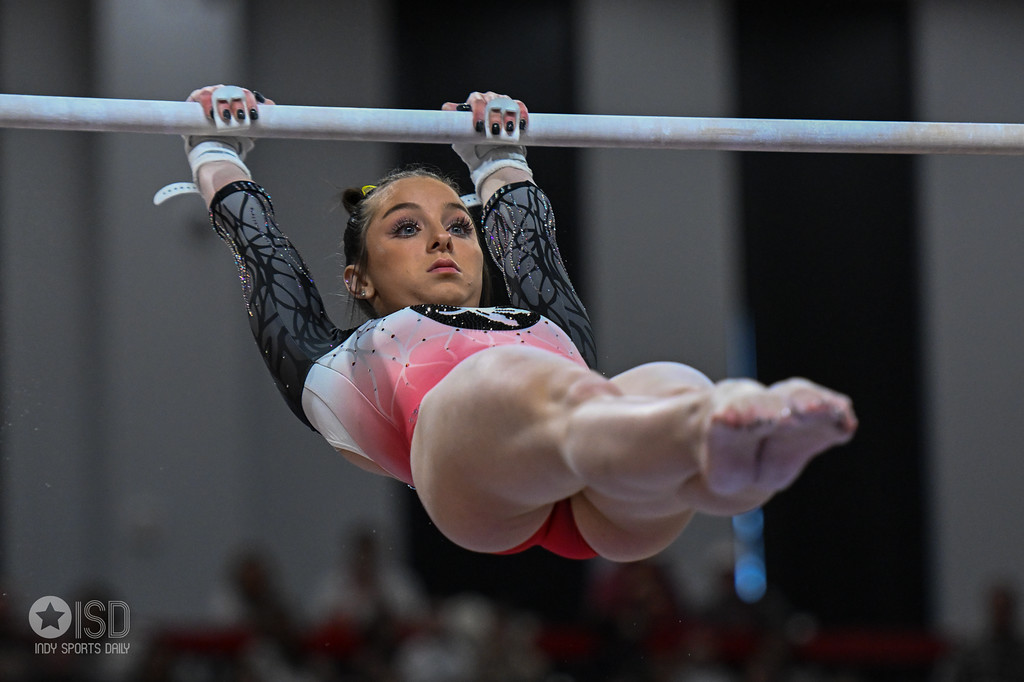 Ohio Team Bars: 49.350  
Emma Pritchard – 9.775
Payton Harris – 9.825
Elexis Edwards – 9.875
Tory Vetter – 9.825
Nicole Riccardi – 9.950
Colby Miller – 9.875
Maryland Team Bars: 49.250
Ohio Team Beam: 49.525  
Emma Pritchard – 9.775
Payton Harris – 9.825
Elexis Edwards – 9.875
Tory Vetter – 9.825
Nicole Riccardi – 9.950
Colby Miller – 9.875
Maryland Team Beams: 4 9.175
Ohio Team Floor: 49.525 
Savannah Gonzalez – 9.800
Torry Vetter – 9.850
Payton Harris – 9.850
Claire Gagliardi 9.57
Elexis Edwards
Ella Hodges
Maryland Team Floor: 49.000