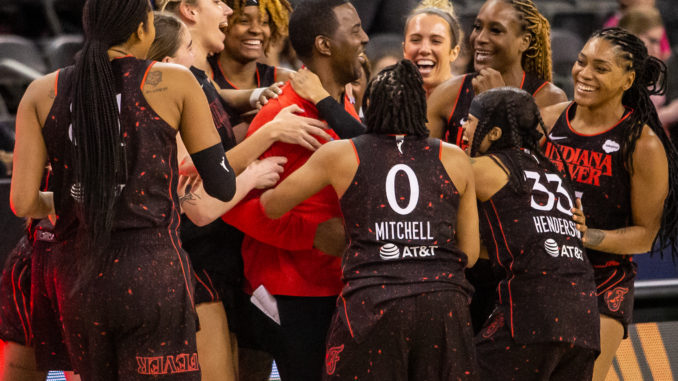 The Indiana Fever won a huge game on Friday night 101-96. Huge win because it was the first game for Intern Coach Carlos Knox. Huge win because this could be a turning point for the young team with four top rookies. The Fever came out strong against the Los Angeles Sparks, hitting three pointers, sharing the ball and playing strong defense. The Fever built a lead of 18 points before the Sparks started fighting back. The Sparks came within 2 points, 95-93 with a little over a minute to go in the game. Danielle Robinson made two free throws with a minute left to give Indiana a two-possession lead and she added two more with 20.1 to go in the game. That was enough for the Fever bench to start the celebration of the first win for Intern Coach Carlos Knox.
Kelsey Mitchell led the Fever in scoring with 22 points. Danielle Robinson had 10 points and 11 assists in the victory. Rookie NaLyssa Smith has an impressive game in the middle scoring 17 points. Her energy on the defensive end frustrated Liz Cambage who went 2 for 11 and scored 13 points for the Sparks. Nneka Ogwumike scored 30 points and grabbed 10 rebounds for Los Angeles. Katie Lou Samuelson had a great game as she scored a career-high 19 points in the loss for the Sparks.
The Fever played with a renewed energy all night on both ends of the floor. They passed the ball, ran the court and looked like they were having fun playing together. This type of unity will lead to many victories under the leadership of Carlos Knox.