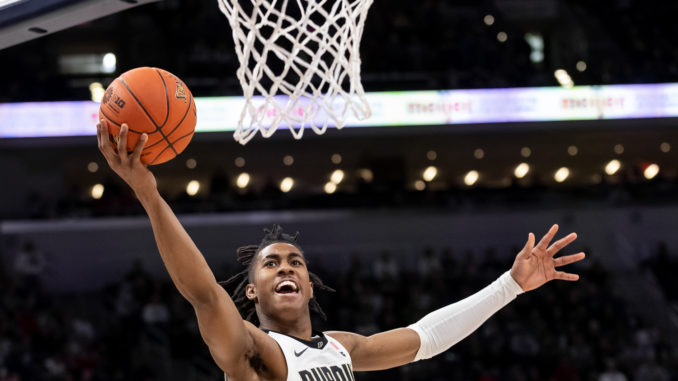 Purdue beat Michigan State 75-70 in the second semifinal game of the Big Ten Tournament on Saturday afternoon. Purdue led most of the game comfortably, but Michigan State stayed around to cut the Purdue lead down to one point late in the second half. Eric Hunter Jr. hit two-pointers late, a total of 8 points, with 3:30 to go in the game to give the Boilermakers a 66-56 lead. It was just a matter of time running out as Purdue handles the Spartans.
Jaden Ivey was quiet in the first half but finished with 22 points, scoring 17 in the second half. Trevion Williams scored 15 points with 7 rebounds and had a few impressive passes during the game. Zack Edey had a quiet double-double scoring 11 points with 10 rebounds.
The Boilermakers are looking forward to a date tomorrow with Iowa afternoon. This will be the first time Purdue will be in the Big Ten tournament finals since 2018, when they lost to Michigan. The last time Purdue won the title was in 2009.
Here is a link to the photos of today's game: Purdue vs Michigan State Photo Gallery