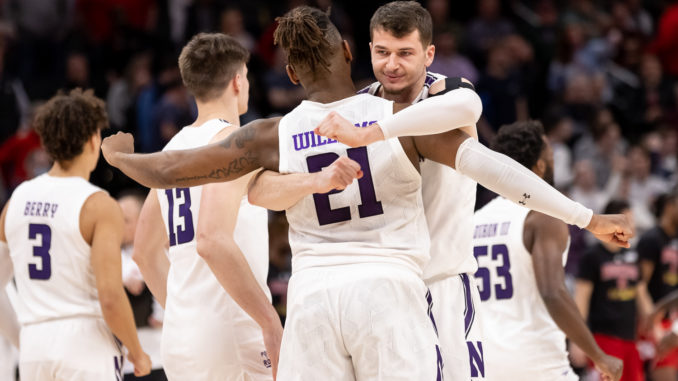 The Northwestern Wildcats beat Nebraska in the opening game of the Big Ten Tournament 71-69. Northwestern was down by 14-points at the half due mostly to turnovers and sloppy play. They had 10 turnovers in the first half with guard Boo Buie committing four of them. the score at the half was 39-25 Nebraska. Pete Nance hit a three-pointer to start the second half and the comeback was underway. Northwestern went on a 14-point run. They took the momentum from Nebraska and pulled off the win.
Boo Buie was the leading scorer for Northwestern with 16 points. Pete Nance had 14 points, 8 rebounds and 8 assist. The cats made 10-30 three-pointers which helped them with their comeback win,
Alonzo Verge Jr, was the leading scorer for Nebraska with 21 points and 9 assists. Derrick Walker fouled outscored 16 points. Nebraska finished the season 10-22 and was on a three-game winning streak.
Northwestern will play Iowa tomorrow at 2 pm.
Here is a link to the photos of the game. Northwestern vs Nebraska – Photo Gallery