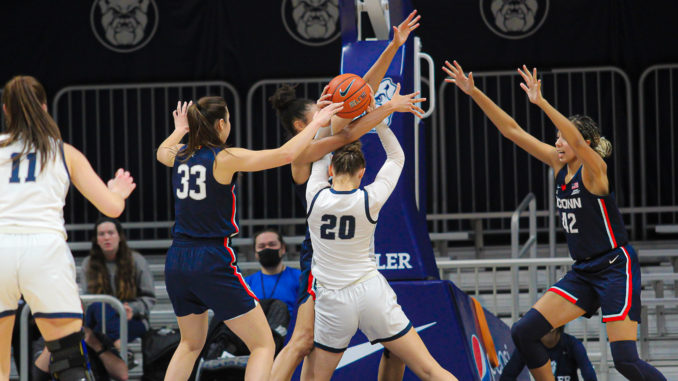 After having four games canceled due to COVID, the Butler women's basketball squad returned to Hinkle Fieldhouse Wednesday night to face national powerhouse No. 10 UConn in a game that was unbalance from the tip off.
Butler never led during the game and the Huskies ran away with the game almost immediately, opening the game with a near double-digit lead. Any time the Bulldogs saw a glimmer of hope, the Huskies made sure to shut them down, scrambling for every loose ball and stealing numerous passes.
Defensively, it wasn't even close with UConn putting on a block clinic and scoring a plethora of fast breaks, three pointers and scoring 43 points off of turnovers compared to Butler's zero.
Legendary UConn Head Coach Geno Auriemma didn't let his team rest at any point and held them accountable for every little mistake, every point allowed and every turnover committed.
At times, Butler looked lost and didn't seem to know how to get things together. Late in the fourth quarter, they finally started scoring some three pointers but UConn made sure to get Butler off their game but it was too little too late as UConn would go on to take the 92-47 victory at Hinkle Fieldhouse.
Luckily the Bulldogs have a week off to watch tape and figure out what went wrong for them as they return to action next Wednesday against Creighton at home.
-Reggie Edwards