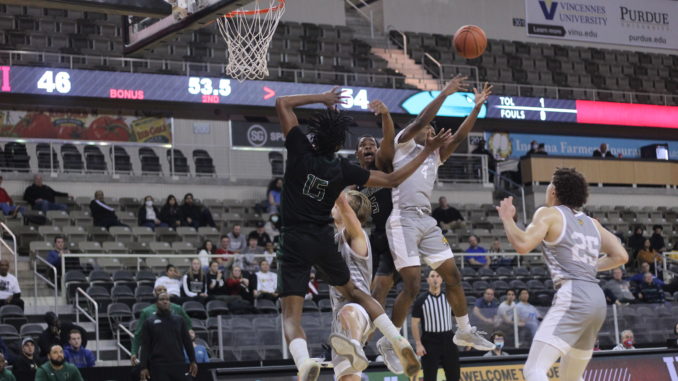 With 3:30 left in the game Thursday night, IUPUI trailed Chicago State by double digits but cut that lead down to just a 5-point deficit.
It wasn't enough, however. With the Jaguars shooting just 32% from the field, they missed multiple layups, open shots and handled the ball poorly. By the time they turned on the gas and cracked down on the Cougar offense, it was too little too late.
Chicago State was led by PG Dominique Alexander, who locked in 17 points as well as Brandon Betson and Jahsean Corbett, both of whom added 15 points and 14 points respectively. The Cougar defense was also impressive, hitting the Jaguars with six blocks and three steals.
On the IUPUI side of the ball, PG BJ Maxwell, who nailed down 20 points of his own as well as two steals, accompanied by Azariah Seay (15 points and 4 steals); together they had over half of the entire team's points.
The bright spot defensively for IUPUI was the 9 steals, but it just wasn't enough as the Cougars took home the 61-55 win. The Jaguars return home Tuesday, when they close out non-conference play against Morehead State at Indiana Farmer's Coliseum.
-Reggie Edwards