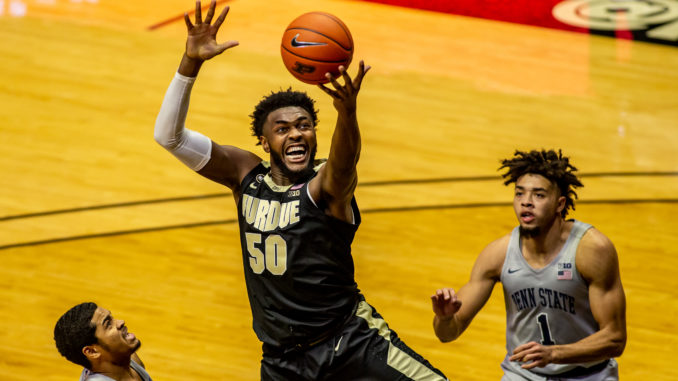 It was a team effort that helped the Boilermakers win their third in a row against Penn State on Sunday afternoon. Sasha Stefanovic scored a team high 15 points along with four others scoring in double figures which lead Purdue to a 80-72 win over the Penn State. The balance scoring was a welcome site to see showing no let down from the previous big victory earlier in the week. Trevion Williams had 13 points and 11 rebounds game to continue his dominance this week, being the conference Player of the week.
The game was close at the end of the first half as Penn State took the lead with a few seconds to go in the half. Mason Gillis hit a key 3 pointer to end the half, giving Purdue a 33-32 lead at the half. then Gillis comes out and lead the attack to start the 2nd half hitting a 3 pointer to begin a 10 -0 run for Purdue to start the half. Purdue pushed the lead up to 64-48 with about 8 minutes to go.
It was then that Penn State started a comeback being lead by Myreon Jones, who had a career high 23 points for the game. John Harrar also had a career high in points scoring 14 points along with 14 rebounds. Penn State had 23 offensive rebounds that help them score 29  second chance points throughout the game. The Penn State run got them within 4 points with 17 seconds to go after Jones hit a 3 pointer but that was as close as they could get. Purdue hit their free throws and held the Nittany Lions off for the win.
The victory makes Purdue 10-5 overall for the season. They are 5-3 in the Big Ten conference and 6-0 at home for the season. Before their next home game on Friday night vs #7 Michigan, Purdue has a game on Tuesday against #15 Ohio State who they defeated in December at home 67-60. Tuesday's game will start at 6:30.