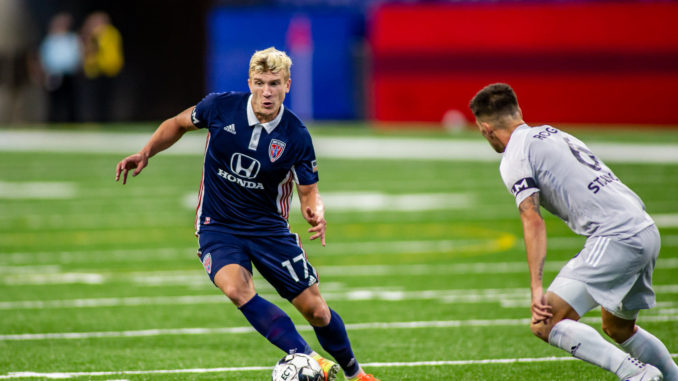 The Indy Eleven are back on the winning side with authority as they win in a convincing fashion, 4-1 over Hartford. Nick Moon started things out quickly for the Eleven with a header that bounced off the gloves of goalie Parfait Mandanda to go in 4 minutes into the game.
The quick start brought joy to the crowd at Lucas Oil Stadium. The Hartford Athletics tried to press the Eleven causing a few turnovers during the first half but could not capitalize on the opportunities and went into the half behind 1-0.
Hartford made adjustments during the half and came out quickly scoring within 48 seconds to start the second half. Alex Dixon scored the goal for Hartford to tie the game 1-1. The Eleven had a quick answer. Four minutes later, Illija Illic received a deflected ball and found a wide open Tyler Pasher who tapped the ball in for the Eleven to take the lead for good. The saying is, when Pasher scores the Eleven win.
This was his fourth winning goal of the season and his league leading sixth of the season.
At the 81 minute mark Drew Conner scored a goal and just to clear any doubt about the outcome Matt Watson added another at the 87 minute mark. The victory was nice for the Eleven putting them back on track in front of the home crowd. Next up on Saturday night is Sporting Kansas City II, a familiar opponent, who just won their first game 2-1 against Louisville City, taking the lead with about 7 minutes to go in the match. The Eleven beat SKCII 2-1, two weeks ago. The Eleven are 5-1 for the season with 15 points.