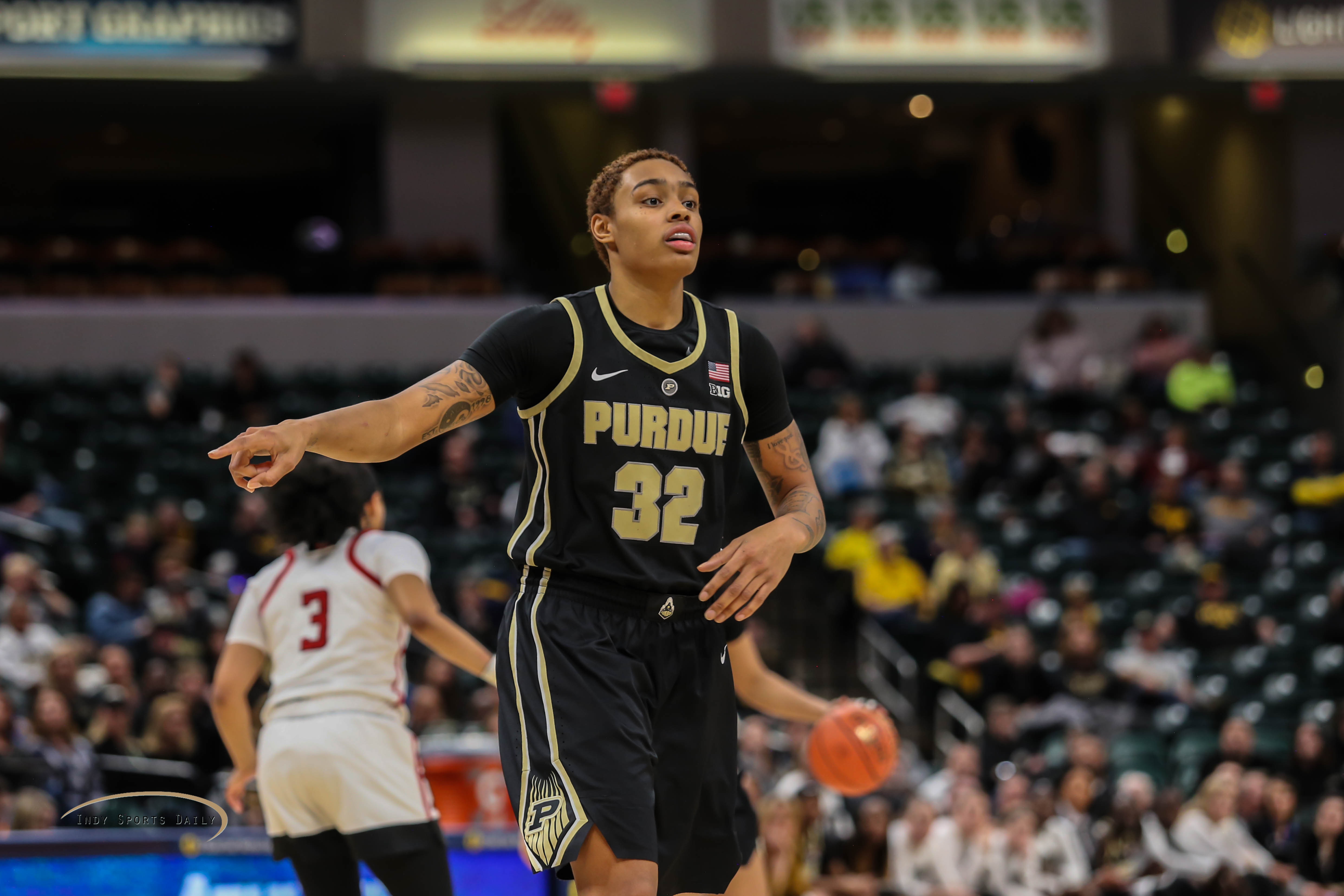 Head coach Sharon Versyp welcomed the next generation of Boilermakers to the Purdue women's basketball family on Wednesday, inking Madison Layden and Ra Shaya Kyle to national letters of intent to join the program next year. The duo received multiple top-60 recruiting grades from several services for their play during their prep careers. The signing class was ranked No. 16 in the nation and third in the Big Ten by ESPN HoopGurlz.
"We're thrilled to add to the Purdue family today," Versyp said. "Madison and Ra Shaya are two incredibly versatile players who will have a major impact on our program. These two are not only great basketball players, but they are also the type of high-character individuals that we want in our team. Our program took the next step forward today."
Madison Layden | G | 6-1 | Kokomo, Ind.
Layden is one of the top recruits in Indiana. A two-time state champion, the Kokomo native is a combo guard who can manufacture shots all over the court. She excels in her mid-range game and can knock down 3-pointers consistently. She is constantly active in the halfcourt offense with and without the ball. Layden has great vision on the court to drive the lane and find an open teammate for an easy basket.
"Madison is a versatile player who can help us at the 1-4 positions," Versyp said. "Her ability to see up the floor and make the pass is one of her biggest strengths. Her size and length will allow her to cause havoc on defense. She has an incredible basketball IQ and court vision that allows her to make the players around her better. She has competed at the highest level and understands how to win championships. She will bring a winning mentality to our program."
HIGH SCHOOL
• Three-year letterwinner at Northwestern High School in basketball
• Guided the Tigers to the 2018 and 2019 IHSAA Basketball State Championships
• Led Northwestern to back-to-back sectional titles in 2018 and 2019
• Two-time Hoosier Athletic Conference Champion in basketball in 2018 and 2019
• Went 10-of-12 at the charity stripe in the 2019 Indiana State Championship Game, both a record, and scored 19 points
• Tallied 13 points in the 2018 Indiana State Championship Game
• Averaged 21.9 points, 4.8 rebounds, 6.7 assists and 5.1 steals per game as a junior in 2018-19
• Totaled 1,593 points and 196 3-pointers in three seasons, while leading the team in assists and steals
• Shot above 40% over from behind the arc as a freshman, sophomore and junior
• Played four years of volleyball at Northwestern
• Won three straight sectional championships with the Tigers' volleyball team
• Posted 6.1 kills and 3.6 digs per set as a senior with 1,814 kills, 1,207 digs, 1,129 assists and 138 service aces during her career.
• Entered senior year with three letters in tennis, as well as three straight sectional titles
• Mother, Kathie, serves as the head coach of the basketball, volleyball and tennis teams
NOTEWORTHY
• No. 6 guard in the nation, No. 34 overall player and a four-star athlete by Prospect Nation
• No. 8 guard in the nation, No. 57 overall player and a rating of 20 by Dan Olson Girls Basketball Report
• No. 15 guard in the nation, No. 57 overall player, four-star athlete and rating of 95 by ESPN HoopGurlz
• No. 1 player in the state of Indiana by Prep Girls Hoops
• 2019 USA Today Indiana Player of the Year
• Tabbed AP All-State First Team in 2019
• Named IBCA Underclass Supreme All-State in 2018 and 2019
• Picked IBCA Honorable Mention Underclass All-State in 2017
• Three straight All-State selections by Indiana Coaches of Girls Sports Association
• Three-time All-Area Co-MVP by the Kokomo Tribune
• All-Hoosier Athletic Conference selection in 2017, 2018 and 2019
• Elected to the National Honor Society as a junior
• Earned Academic Honor Roll as a freshman, sophomore and junior
• Selected as the 2018 Raymond James Hall of Fame Classic MVP
• Junior All-Star Core Team pick in 2018
PERSONAL
• Full Name: Madison Riley Layden
• Major: Pharmacy
• Birthday: Feb. 2, 2002
• City Born: Kokomo, Ind.
• Parents: Kathie and Jeff Layden
• Sibling: McKenna Layden
• Both parents played basketball at the University of Evansville
• Jeff was named to the Missouri Valley All-Bench Team and led the team in blocked shots in 1996-97, as well as 1993-94
• Kathie finisher her career with Evansville ranked seventh in career assists and tied for fourth in 3-pointers
Ra Shaya Kyle | C | 6-6 | Marion, Ind.
Kyle is a low-post player with imposing size. Standing 6-foot-6, The Marion native will join Summer Erb, Nora Kiesler and Michele VanGorp as the tallest player in Purdue history. Her size gives the ability on defense to alter opponents' shots. Kyle's prowess is not just on the defensive end. She has multiple ways to score and plays a key factor in transition offense.
"Ra Shaya's biggest strength is her potential," Versyp said. "She has the ability to grow and improve drastically at Purdue under our staff. Her height and length will allow her to be a dominant post player on both ends of the floor. She is a versatile scorer in the paint and has the physical capacity to make an impact. Ra Shaya is an active rebounder who does a good job of rebounding out of her area."
HIGH SCHOOL
• Three-year letterwinner at Marion High School under Lawrence Jordan
• Guided the Giants to back-to-back sectional championships in 2018 and 2019
• Won the 2018 regional title at Marion, finishing the season in semi-state against Northwestern and Madison Layden
• Entered senior season with a career 49% field goal percentage, 1,208 points and 726 rebounds
• Shot 54% from the field during junior campaign in 2018-19
• Averaged double-double as a junior with 15.5 points and 10.3 rebounds per game
• Tallied a career-high 4.4 blocks per game as a sophomore to go along with 15 points per outing
• Notched 15.2 points per game as a freshman in 2016-17
• Won three letters in volleyball
• Averaged one block per set during career, with 209 rejections over three seasons
• Played AAU for Always 100
NOTEWORTHY
• IBCA Large School All-State in 2019
• IBCA Honorable Mention Underclass All-State in 2018
• Tabbed AP Honorable Mention All-State in 2019
• Named First Team All-North Central Conference in 2019 and 2018
• No. 5 center in the nation, No. 36 overall player and rating of 22 by Dan Olson Girls Basketball Report
• No. 7 center in the nation, No. 43 overall player and a four-star athlete by Prospect Nation
• Five-star athlete, No. 5 center in the nation, No. 36 overall player and a rating of 97 by ESPN HoopGurlz
• Named to Indiana Junior All-Star team
• Earned All-North Central Conference and Marion offensive MVP honors for volleyball as a senior
PERSONAL
• Full Name: Ra Shaya Kyle
• Major: Sports Management
• Birthday: March 6, 2002
• City Born: Marion, Ind.
• Parents: Reggie Sr. and Sha Raya Jones
• Siblings: Ra Zya Jones, Reggie Jones, Jr. and Ra Sheed Jones
• Brother, Reggie Jones, Jr., played two seasons at Western Michigan, before transferring to Tulsa, tabbed a three-start recruit and the No. 10 ranked player by ESPN coming out of high school