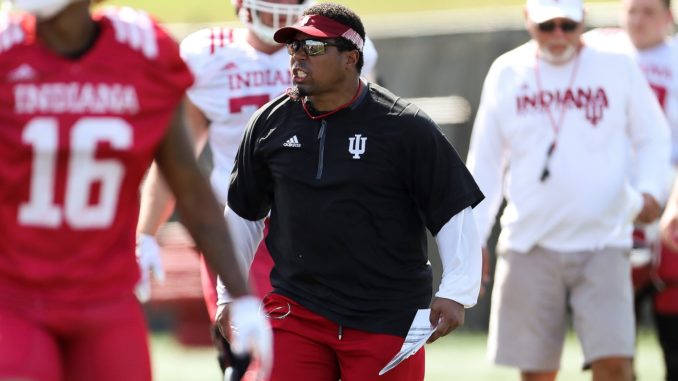 Indiana assistant head coach/running backs coach Mike Hart is one of 53 nominees for the 2018 Broyles Award, the Frank & Barbara Broyles Foundation announced today. The award honors college football's top assistant coaches.
A 19-member selection committee of distinguished former head coaches, along with a committee representing the FWAA will select 15 semifinalists and five finalists from the list of nominees and an overall winner. Those finalists will be invited to travel to Little Rock, Ark., where the 2018 Broyles Award winner will be announced on Tuesday, Dec. 4, at the Marriott Hotel.
Hart was promoted to assistant head coach prior to the 2018 season and is in his second season as the team's running backs coach. He has mentored true freshman Stevie Scott to one of the top opening seasons in program history.
Scott is third in the Big Ten in carries (159, T-20th nationally), tied for fifth in 100-yard games (3), sixth in yardage (791, 33rd) and tied for sixth in total touchdowns (8). Amongst true freshmen, he is second in the nation in yardage, 100-yard games and carries, and shares fifth in rushing TDs (7).
A two-time Big Ten Freshman of the Week honoree, Scott is tied for first in rushing scores, tied for third in 100-yard games, and is fourth in yardage and attempts for a true freshman in program history.
He became the 12th true freshman in IU history  to reach the 100-yard rushing mark in his first career start against Virginia, finishing with 204 yards on 31 carries (6.6 average) with his first career touchdown, a 40-yarder. The 204 yards are the second-most for a Hoosier true freshman back, three shy of Anthony Thompson's mark in 1986, and one of four 200-yarders (3rd-highest) for a Big Ten back in 2018.
The Syracuse, N.Y., native averages 5.0 yards per carry, 87.9 yards per game and has lost just 13 yards. Scott also has 13 catches for 72 yards with one TD.
In 2017, Hart coached the lone Power 5 freshman duo to rush for over 400 yards.
The University of Michigan's all-time rushing leader, Hart spent three years with the Indianapolis Colts before entering the coaching ranks in 2011.
In his seven-plus seasons as a coach (Syracuse, 2016; Western Michigan, 2014-15; Eastern Michigan, 2011-13), Hart has tutored three 1,000-yard rushers, two Mid-American Conference (MAC) Freshman of the Year and the 2014 MAC Offensive Player of the Year, Jarvion Franklin.
The winner of the 2018 Broyles Award was Tony Elliott, co-offensive coordinator and running backs coach at Clemson. Winners from the past five seasons are not eligible to be nominated for the Broyles Award.
This year marks the third time the Frank & Barbara Broyles Foundation has presented the award. Proceeds from the 2018 Broyles Award support the mission of the Broyles Foundation; to provide education, support, and resources to Alzheimer's caregivers. The Broyles Foundation can be followed on Facebook and Twitter. Full list online here.