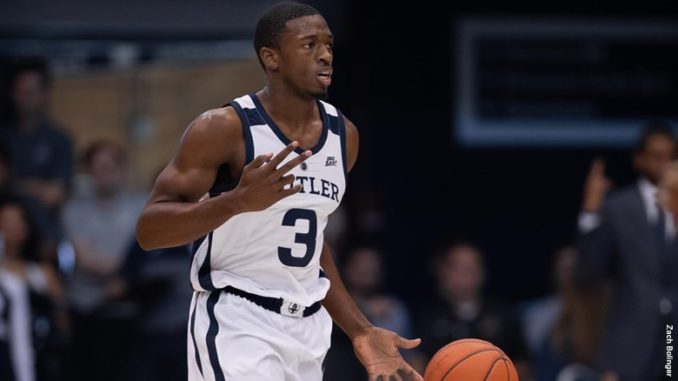 Courtesy of Butler Athletics
Butler junior Kamar Baldwin is among the 50 players selected to the watch list for the 2019 Citizen Naismith Trophy Men's Player of the Year honor. The list was announced by the Atlanta Tipoff Club Monday, Nov. 5.
Baldwin's standout 2017-18 campaign propelled the 6-1 guard to a unanimous selection on the preseason All-BIG EAST team. As a sophomore, he averaged 15.7 points, 4.9 rebounds, 3.2 assists and 1.5 steals. He was even more productive in BIG EAST play as his averages increased to 16.6 points and 5.2 rebounds per conference contest. Baldwin also earned a spot on the 2018 BIG EAST All-Tournament Team thanks in large part to a career-high 32-point outburst against Seton Hall in the quarterfinals. His 893 points through his first two seasons at Butler are the fourth-most in program history.
A list of the midseason 30 team will be released on Feb. 13, 2019, followed by the 10 national semifinalists and four finalists on March 4, 2019 and March 19, 2019 respectively. The 2019 Citizen Naismith Trophy will be awarded on at the Naismith Awards Brunch on April 7, 2019, during the Final Four in Minneapolis.
"This time of year is filled with excitement, optimism and anticipation as each team is undefeated and the race for the Citizen Naismith Trophy is wide open. These 50 candidates are ones to keep an eye on, but there will be plenty of others who will enter the competition throughout the season," said Eric Oberman, executive director of the Atlanta Tipoff Club. "It's great to have the season tipping off tomorrow."
Butler opens the 2018-19 regular season Saturday, hosting Miami (Ohio) at Hinkle Fieldhouse.
2019 Citizen Naismith Trophy Men's Preseason Watch List
| | | | | |
| --- | --- | --- | --- | --- |
| NAME | CLASS | POSITION | SCHOOL | CONFERENCE |
| Kamar Baldwin | Jr. | G | Butler | BIG EAST |
| R.J. Barrett | Fr. | F | Duke | ACC |
| Tyus Battle | Jr. | G | Syracuse | ACC |
| Bennie Boatwright | Sr. | F | USC | Pac-12 |
| Bol Bol | Fr. | C | Oregon | Pac-12 |
| Phil Booth | Sr. | G | Villanova | BIG EAST |
| Ky Bowman | Jr. | G | Boston College | ACC |
| Barry Brown | Sr. | G | Kansas State | Big 12 |
| Jordan Caroline | Sr. | G/F | Nevada | Mountain West |
| Clayton Custer | Sr. | G | Loyola of Chicago | Missouri Valley |
| Mike Daum | Sr. | F | South Dakota State | Summit League |
| Carsen Edwards | Jr. | G | Purdue | Big Ten |
| Jon Elmore | Sr. | G | Marshall | Conference USA |
| Daniel Gafford | So. | F | Arkansas | SEC |
| Darius Garland | Fr. | G | Vanderbilt | SEC |
| Jessie Govan | Sr. | C | Georgetown | BIG EAST |
| Kellan Grady | So. | G | Davidson | Atlantic 10 |
| Quentin Grimes | Fr. | G | Kansas | Big 12 |
| Kyle Guy | Jr. | G | Virginia | ACC |
| Rui Hachimura | Jr. | F | Gonzaga | WCC |
| Ethan Happ | Sr. | F | Wisconsin | Big Ten |
| Markus Howard | Jr. | G | Marquette | BIG EAST |
| De'Andre Hunter | So. | G | Virginia | ACC |
| Keldon Johnson | Fr. | G | Kentucky | SEC |
| Sagaba Konate | Jr. | F | West Virginia | Big 12 |
| Romeo Langford | Fr. | G | Indiana | Big Ten |
| Dedric Lawson | Jr. | F | Kansas | Big 12 |
| Nassir Little | Fr. | F | North Carolina | ACC |
| Caleb Martin | Sr. | F | Nevada | Mountain West |
| Charles Matthews | Sr. | G | Michigan | Big Ten |
| Luke Maye | Sr. | F | North Carolina | ACC |
| Juwan Morgan | Sr. | F | Indiana | Big Ten |
| Jordan Murphy | Sr. | F | Minnesota | Big Ten |
| James Palmer Jr. | Sr. | G | Nebraska | Big Ten |
| Eric Paschall | Sr. | F | Villanova | BIG EAST |
| Shamorie Ponds | Jr. | G | St. John's | BIG EAST |
| Cam Reddish | Fr. | F | Duke | ACC |
| Justin Robinson | Sr. | G | Virginia Tech | ACC |
| Admiral Schofield | Sr. | G | Tennessee | SEC |
| Chris Silva | Sr. | F | South Carolina | SEC |
| Killian Tillie | Jr. | F | Gonzaga | WCC |
| Reid Travis | Sr. | F | Kentucky | SEC |
| Dean Wade | Sr. | F | Kansas State | Big 12 |
| P.J. Washington | So. | F | Kentucky | SEC |
| Tremont Waters | So. | G | LSU | SEC |
| Lindell Wigginton | So. | G | Iowa State | Big 12 |
| Kris Wilkes | So. | G | UCLA | Pac-12 |
| Grant Williams | Jr. | F | Tennessee | SEC |
| Zion Williamson | Fr. | F | Duke | ACC |
| Cassius Winston | Jr. | G | Michigan State | Big Ten |