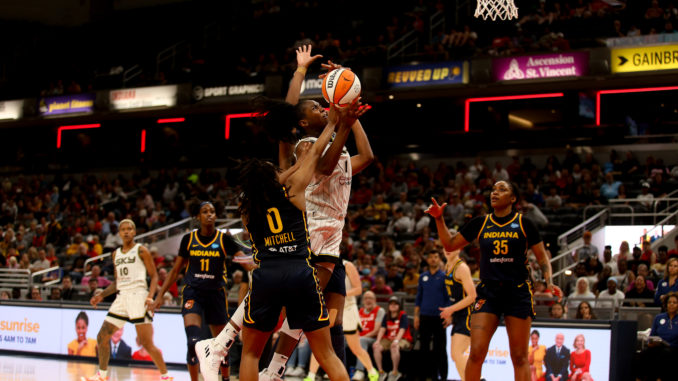 Just two weeks ago, the Indiana Fever marched into Chicago and knocked off the Sky with a last-second shot from Kelsey Mitchell as time expired. It was sweet revenge for a tough loss a week prior. Fast forward to this week and the Sky made their way to Indy, looking to avenge the last game and also looked to hand the Fever their fourth-straight loss today. 
These are two completely different teams than the ones who competed in Chicago. The Fever continue to climb the WNBA Power Rankings while Chicago Head Coach James Wade stepped down just one day prior to join the Toronto Raptors Coaching Staff. 
The Sky got out to a quick lead thanks to numerous Fever turnovers and missed easy shots. The WNBA is a game of momentum and the Sky had all of the momentum going into halftime. However, the Fever never really let up in the first half and often threatened the Sky lead. 
In the second half, the Sky took a double-digit lead early on and controlled most of the half. However, newly-named All Star Kelsey Mitchell took things into her own hands and got the Fever back into things, cutting the once-monster point deficit down to a tie and the Fever had all of the momentum with just a few minutes to spare. 
However, a late offensive foul on Mitchell saw the Sky get all of the momentum just in time to knock down a few clutch baskets and seal the two-point win. 
This game was a lot of the same woes for the Fever. Thrown-away balls, intercepted passes, missed easy layups and bad fouls have been the bane of this team's existence this season. This game included, there have been at least five games where the Fever could have easily won. Had they handled the ball better, they could be sitting near the top of the WNBA standings. One thing is for sure, though, this Fever team is exciting and continues to pose a threat to any team that comes their way. 
-Reggie Edwards