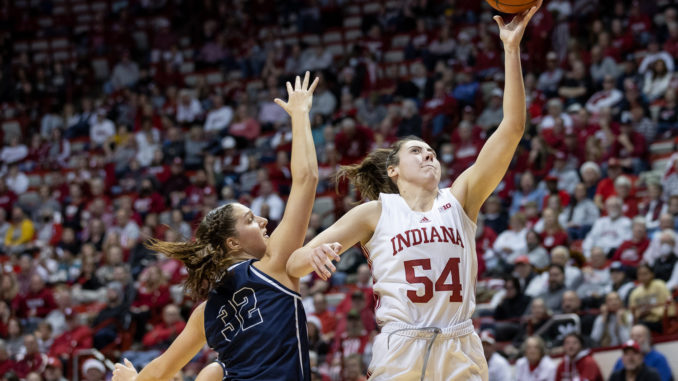 Bloomington, Indiana
Indiana's head coach Terri Moren said in her post-game comments that Christmas break games are always interesting, noting that the Hoosier did not get off to the start they wanted or anticipated. She felt the team was hurried, which led to careless turnovers. Coach Moren said some bright spots from today's game were that the team shot well from the charity stripe and out-rebounded Butler.
Butler kept the first quarter close and only trailed by four going into the second quarter. Indiana turnovers and lackluster outside shooting helped keep the Bulldogs close early on until Indiana outscored Butler 20 – 7 in the second quarter to pull away with a 17-point lead at halftime. Mackenzie Holmes led Indiana with 17 points at the half and finished the game with 21, seven rebounds, and three assists in 29 minutes.
The lady Hoosiers remain undefeated in out-of-conference play, 12-0, heading into the Christmas break before the Big Ten conference play begins. Next up for the lady Hoosier's will be a road game to East Lansing as they will face the Michigan State Spartans on December 29 with a 3:00 pm tipoff.