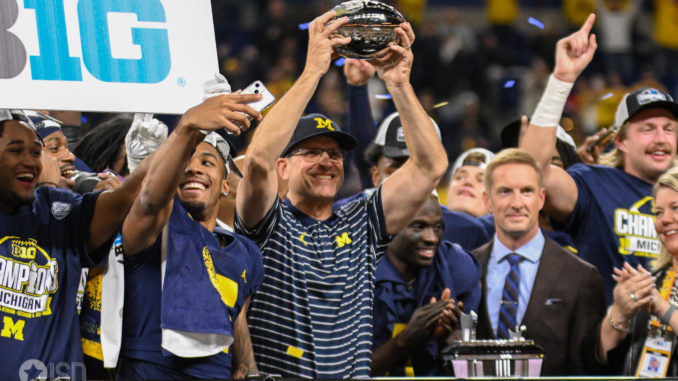 Michigan won the Big Ten Championship for the second year in a row, defeating Purdue 43-22. Lucas Oil Stadium was sold out with its second largest crown in B1G Ten Championship history in Indianapolis. The Maize and Blue faithful filled about 75 percent of the stadium and they went home happy. Michigan is #2 in the Collage Football Playoff Rankings and is ready to take on TCU next at the Fiesta Bowl.
Purdue fought tough in the first half behind quarterback Aiden O'Connell. The second drive of the game was impressive and ended with the only Boilermaker touchdown of the game. Throughout the game Purdue managed six drives of eight plays but the opportunities stalled because of the Michigan defense and ended with five Field goals. Purdue Played well in especially in the first half but then Michigan woke up and showed why they are ranked #2.
Aiden O'Connell's day started to unravel in the third quarter when he threw an interception in the red zone to Will Johnson. Purdue was moving the ball and looking like they were settling down, but that play was key to the Boilermakers losing steam in the game. Charlie Jones had a great game catching 13 passes from O'Connell for 165 yards. He finished the season with over 1400 yards receiving and is looking to be a high draft pick in April. Aidan O'Connell finished the day going 32 for 47 with 366 yards passing
J.J. McCarthy played a decent game, completing 11 of 17 passes for 161 yards and three touchdowns. Ronnie Bell caught five of those passes for 67 yards. It was Donovan Edwards who broke for a 60-yard run on the first play of the second half that started the rout for Michigan, and this led to a touchdown. It was a total of 7 plays to start the second half that scored the Wolverines 14 points and put the Boilermakers away for good. Edwards finished with 185 yards rushing and a touchdown.
Too much settling for field goals is what hurt Purdue. In the first half Coach Brohm surprised everyone with a fake punt to gain the first down. In the second half he took no chances and settled for field goals when there was nothing to lose. Well, I take that back, there was the fake flea flicker in the third quarter that gained 25 yards. After that no chances were taken. The Boilermakers had a nice season and will wait to see where they will play later this month in a Bowl game.
A photo gallery of the game is available to see at 2022 Big Ten Championship Purdue vs Michigan.