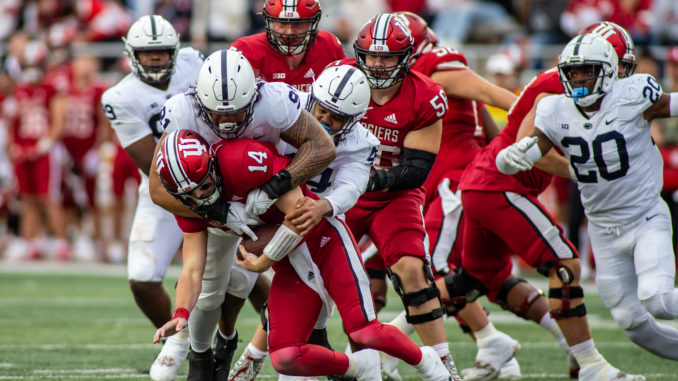 The Indiana Hoosiers season of woe continued Saturday afternoon as they lost to #16 Penn State 45-14. Connor Bazelak did not start so it was in the hands of Jack Tuttle to lead the team. He looked good on the first few drives as he moved the ball by short passes and scrambling for yards away from the Penn State defense. Tuttle even tied the game at 7-7 early. But that movement came to an end late in the first half as he was hit hard and suffered a shoulder injury. That was the end of his day.
True freshman Brendan Sorsby was the next man up. He was not ready as he went 3-6 passing for 8 yards and threw one interception. He was pulled quickly for Dexter Williams III who threw for 41 yards completing four of his eleven attempts.
After the Hoosiers tied the game at 7, Penn State took control of the game. The defense had a school single game record 16 tackles for loss. On offense Sean Clifford went 15 of 23 passing for 229 yards. Kaytron Allen ran for 86 yards and 3 touchdowns. Nicholas Singleton has 73 yards and one touchdown. It was a long evening for Hoosier fans.
Indiana must win their last three games to make a bowl game but with their quarterback situation it's not likely to happen this year especially since #2 Ohio State is the next game.