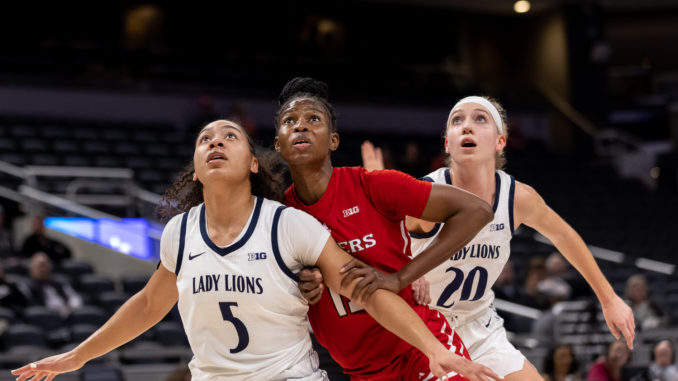 Rutgers advanced to play in day two of the Big Ten Women's Tournament by beating Penn State in the opening game 75-50. Rutgers' Osh Brown led all scorers with 18 points to go along with her 13 rebounds.  Shug Dickson scored 14 points for Rutgers and Tyia Singleton chipped in with 10 points. Rutgers led by 23 points in the third quarter and ran the lead up to 28 points in the fourth quarter.
Leilani Kapinus led Penn State in scoring with 16 points and 13 rebounds. Makenna Marisa had 15 points for the Nittany Lions in the losing effort. Penn State finished the season with an 11-18 record.
Rutgers shot 43.5 for the game and out rebounded Penn State 56-39. Penn State had a bad shooting night going 14 for 59 from the field and shooting only 17.4 % from the three-point line.
The Scarlet Knight's victory of 25 points was the highest margin of victory in a Big Ten Tournament game. Next for Rutgers is the #12 Indiana Hoosiers. Here is a link to the photo gallery by Tony Vasquez and Indy Sports Daily photo staff. Penn State vs Rutgers Photo Gallery