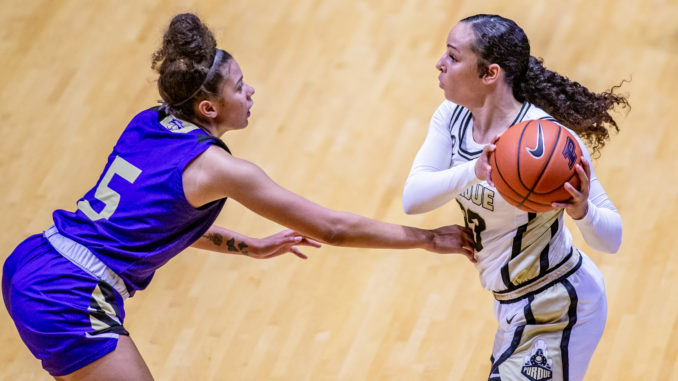 The Boilermaker Women came out victorious in their season opener against North Alabama, 80-69. Tamara Farquhar in her return to action from knee surgery last year lead, the way with a career high 19 points. Farquhar said in her interview after the game, "I'm just ready to play."
You could tell as she looked as if she never left the court while also grabbing 9 rebounds. Kayana Traylor looked like the floor general directing the team on the court as usual scoring 18 points with 4 assist. It was also nice to see Ajah Stallings make her first career start tonight for the boilermakers.
The most impressive player of the night was Freshman Ra Shaya Kyle. In her debut as a Boilermaker, in just 8 minutes of play, she scored 16 points and had 9 rebounds. Farquhar said about her new teammate, "She only played eight minutes and I can't wait to see her play more minutes. I think she'll make a big difference in the paint, not only offensively but defensively. Her length will cause problems."
Coach Versyp added "She knows when she catches it deep, she's going to score. She was efficient, moved well, played hard and hopefully that can continue but we're going to play tougher competition." It's going to be fun to see Ra Shaya Kyle play.
The Boilermakers return to action Thursday evening at 6pm vs Miami (Ohio).