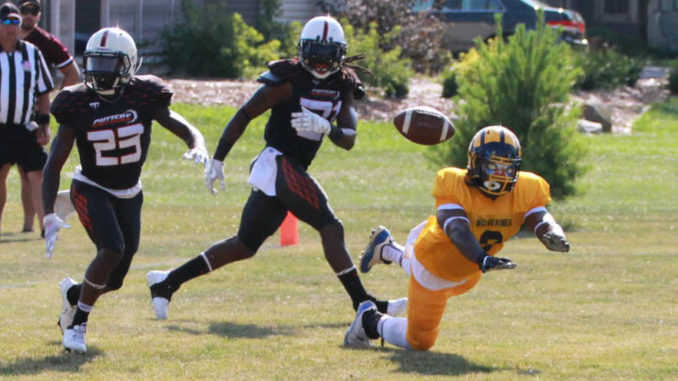 With week one in the books the Fort Wayne Wolverines would play host to the Indiana Cutters at Haven Hurst field the home team crowd would show up in force to support their team the Wolverines. The Cutters coming off a last-minute loss were looking to avenge, and that they would do.
The game started the same way for the Wolverines as last week they would hold the Cutters offense to 0 points in the first quarter but would also be hurt by penalties but QB Terry Gardiner would hit RJ Moss for six in the end zone his second TD in two weeks and the Wolverines would take an 8-0 lead late in the first quarter. The lead would not last long for the Wolverines as the Cutters would come back and tie the game at 8.
The game would not stay that way for long as the Wolverines would hit the endzone once again and break the tie but would not get the two-point conversion and make it 12 to 8 going into the half.
Fort Wayne would get the ball back to start the second half and pretty much the same as the first there play was hindered by penalties that negated what would be several more potential scores.
They would manage to hit the endzone one more time, but the Cutters would not let them shut the door on them and they would keep it close at 20-12. Late in the fourth quarter the Cutters would push for a last-minute victory and that they did the final score would be Cutters 22 Wolverines 20
The Wolverines travel to Nappanee to take on the Michiana Thunderhawk's (1-1) they will have their work cut out for them as the Thunderhawk's made it the championship game last year and look at the Wolverines as another road block to a return.
If the Wolverines stay focused and play together as a team they can be the wrench in the Thunderhawk's plans and gain a win over them this is week 3 of the shortened season with this week and 2 more games after to get a top seed into the playoffs, will the Wolverines stay focused and bounce back from a last minute loss last week, if they play smart and don't let the Thunderhawk's get into their heads and leave it all on the field they have a great chance.
Other score from the Battle Ground Football League:
North: 
Michiana Thunderhawk's (1-1) 27 Lake County Warriors (1-1) 14
North Michigan Patriots (1-0) vs Joliet Bucs (0-1) Postponed
South:
Kentuckiana Calvary (2-0) 20 Stateline Seminoles (0-2) 14
Crossover Games: 
Allen Co Pride (0-2) 0 Indianapolis Tornadoes (2-0) 28