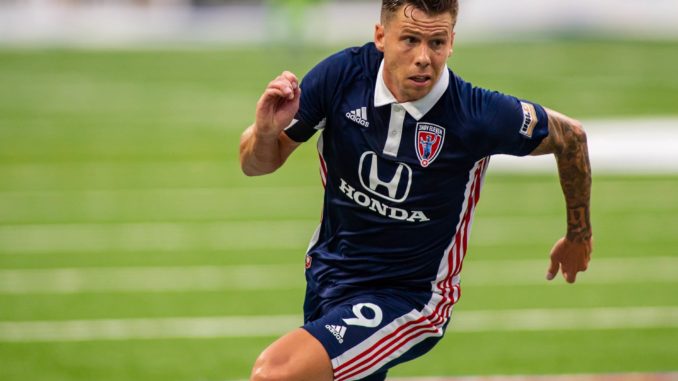 The Indy Eleven defeated Sporting KC II 2-1 in a close game. Defense was key for Sporting KC II as they held the Eleven at bay for the first 38 minutes. It was during the 39th minute when Tyler Pasher, the leagues leading scorer, had an open shot at the net after a rebound from a save by Thompson. The Eleven took the 1-0 lead into the half.
Sporting KC II looked better at the start of the second half being a bit more aggressive at the offensive end. It was Wilson Harris at the 53rd minute mark who scored the first and only goal for Sporting KC II. Harris even had a nice dance to go with his goal.
It was Ilija Ilic who found the Eleven's team captain Paddy Barrett for the final goal at the 67th minute. It was a kick from about 18 yards out that went past the goalie Brooks Thompson that put the Eleven up for good. Barrett had a more impressive dance after his goal which energized the Eleven to hold on for the win. 
Sporting KC II fought hard in the second half but fell short. There was a non call during stoppage time that very well could have been called a penalty. The Eleven and the social distancing fans in the stands will take the victory and move on to 3-0 for the season with a league best 9 points.
The victory was the tenth straight home victory for the Eleven and they now have the third longest home undefeated record in USL Championship history extending it to 27 games in a row without a loss, dating back over two years. The next game for Indy is on the road against Pittsburgh Riverhounds SC. 
Attendance: 4931