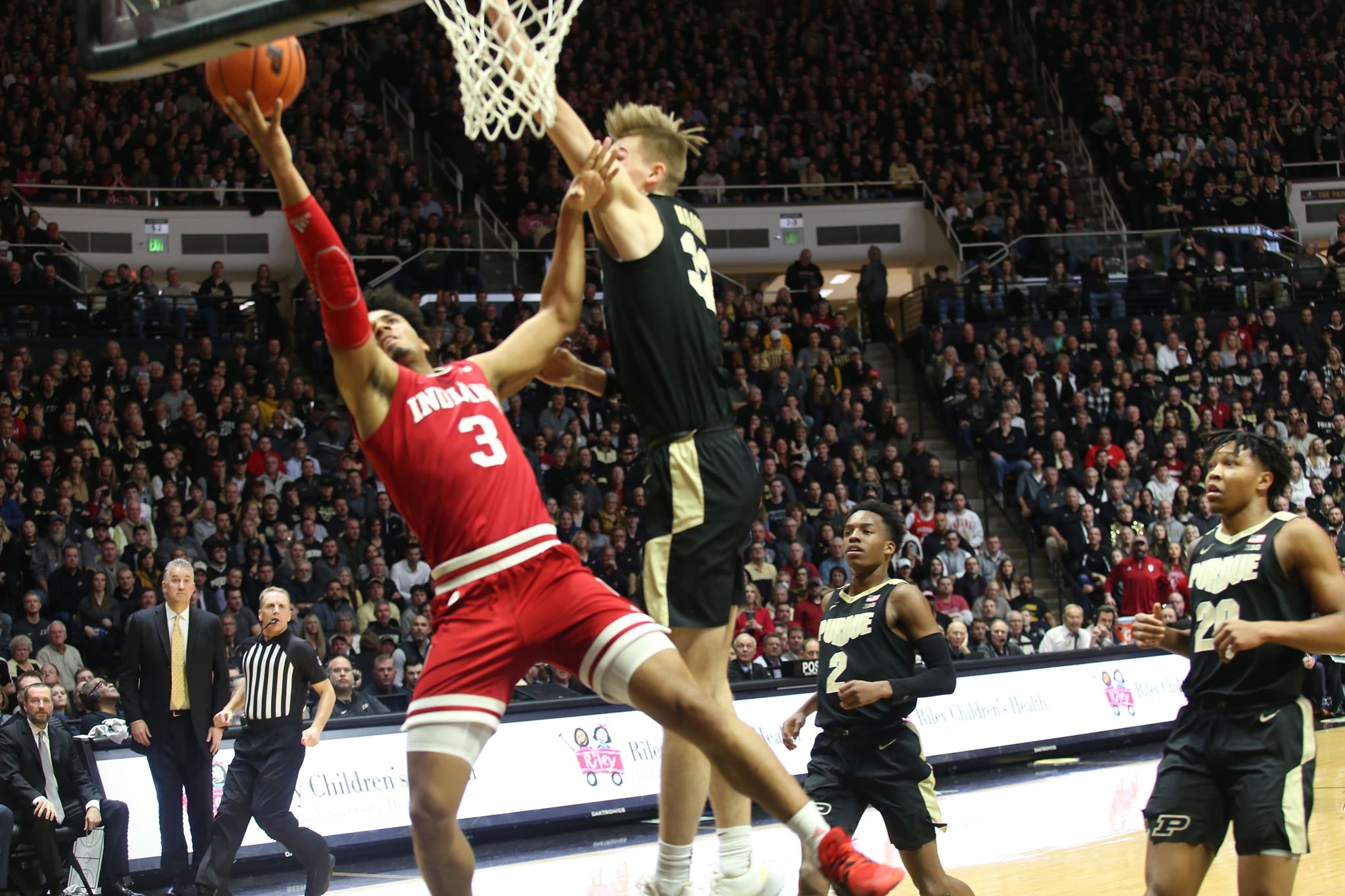 Photo by: Reggie Edwards/ IndySportsDaily
Mackey Arena
West Lafayette, IN
Purdue came into this game looking to end their 4 game losing streak, and oddly enough, their last win was against the Hoosiers in Bloomington. Purdue doesn't have a chance in making the NCAA tournament unless they can miraculously win the B1G tournament, but IU has dipped in and out of "bubble team" territory in the last few weeks. Some experts predict that they can be seeded as high as #12 but it looks like they may have secured a spot at least in the NCAA tournament. A win against Purdue at Mackey would help them even more.
The 1st half of the game was owned by Purdue for the majority of it. Purdue's Haarms found high percentage buckets inside regularly and IU relied on outside shooting during the half. IU's plan didn't work well with them only shooting 21% in the first half of the game. The Boilermakers went into the half with a 29-20 lead over the Hoosiers.
The 2nd half wasn't any different. Purdue came out on fire and pushed the lead to 16 points in no time. IU got a few baskets to fall and a few stops on defense and was able to lower the lead to 11 with about 6 minutes left in the game. Poor shooting at the free-throw line for IU and great rebounding by the Boilermakers kept the score just out of reach for the Hoosiers. With under 5 minutes left in the game, IU still did not have anyone scoring in double digits. Meanwhile, the Boilermakers had 2 players in double digits (Williams and Hunter Jr.) and both of those players were working on getting a double-double with rebounds. IU found a bit more success on both ends of the court and was able to get the score to within 6 with under 3 minutes left in the game. Suddenly IU was feeling themselves a bit. It was too little too late for the Hoosiers as Purdue takes the W 57 to 49 and sweeps IU this season. This win pushes Purdue's win streak against IU to 7 games and ties for 5th longest streak in the series.