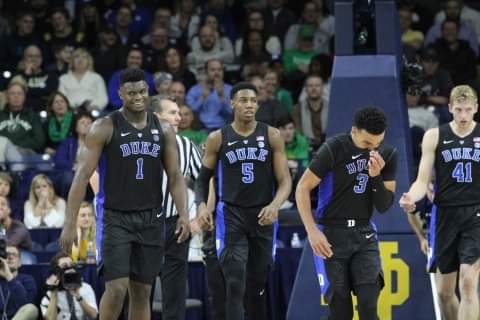 South Bend, IN –  Duke came into the Joyce center on a mission. That was to regain that #1 spot in the AP top 25 and the freshman phenom (and freak) Zion Williamson was going to make sure it happened. Duke with a 17-2 record so far this season has dominated the top of the polls with just a slight hiccup recently. At the other end of the spectrum, Notre Dame is holding their head above water and just two games above the .500 mark with an 11-9 record.
Duke was a scoring machine in the first half of the game, shooting 59% from the field and going 5-9 from the 3. Zion Williamson led the charge with 17 points in the 1st and shooting 7-9. RJ Barrett was also a force with 10 points and 5 rebounds. They worked the ball inside and had 22 points in the paint. Notre Dame did a solid job of not sending Zion to the line or any other duke players too much in the half. Prentiss Hubb lead the way for the Irish with 8 points. Duke closed out the half with a big lead 46-28.
Notre Dame came out in the 2nd half more composed and was able to work into the paint for some easy buckets, which also helped them open up the floor to knock down some mid-range and 3 point shots. They just didn't have an answer for Duke on the defensive end of the court, and the Blue Devils just could not miss.
Duke just proved to be too strong, and shot with great accuracy for Notre Dame to really be able to slow them down. Duke routed the Irish 83-61. Zion Williamson finished the game with 26 points and 9 rebounds, and only missed 2 shots the entire game. The Irish's John Mooney finished with a double-double getting 14 points and 11 rebounds. Notre Dame's next game is against rival Boston College on Feb. 2nd at 2pm on the ACC Network