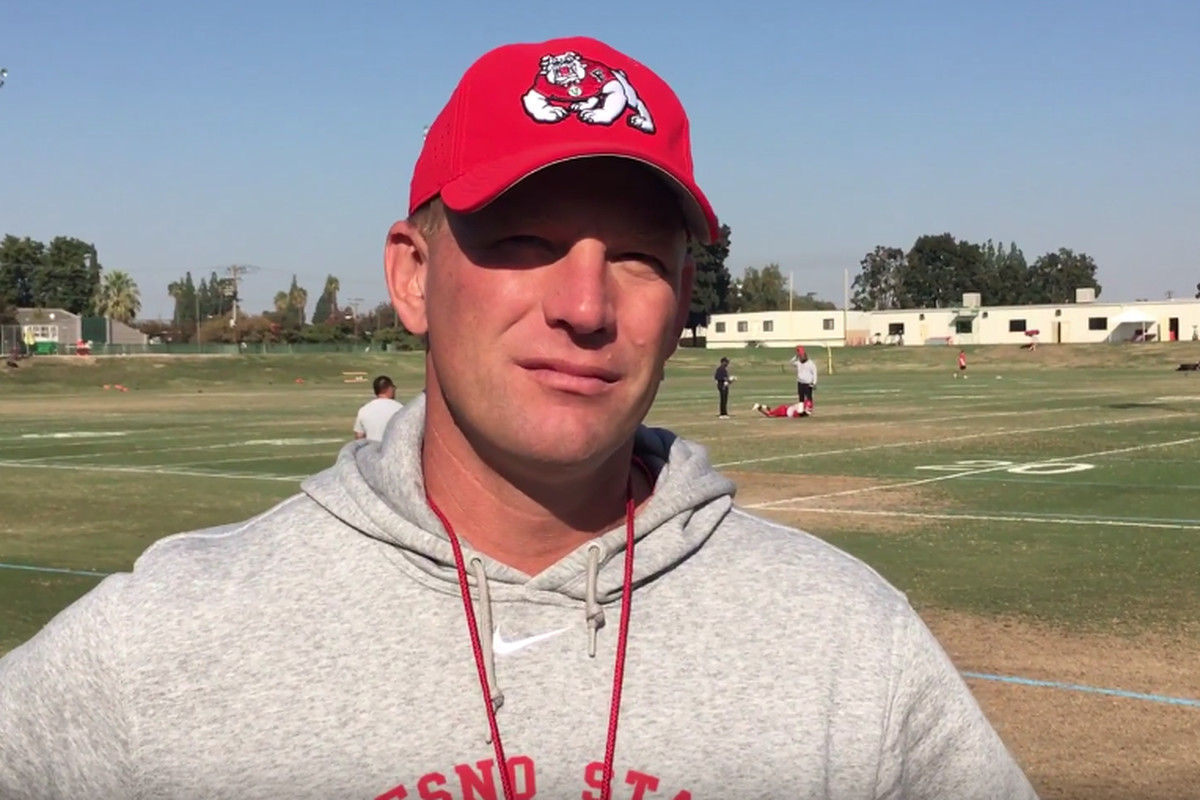 Indiana head football coach Tom Allen announced today the hiring of Kalen DeBoer as associate head coach and offensive coordinator. A three-time national champion head coach at the University of Sioux Falls (2006, 2008-09) and veteran play-caller of 19 years, DeBoer comes to Bloomington after stints as assistant head coach and offensive coordinator at Fresno State University (2017-18), and offensive coordinator and quarterbacks coach at Eastern Michigan University (2014-16).

Before his arrival, Fresno State ranked 120th nationally in total offense only to jump to 47th over his two seasons, while Eastern Michigan moved from 111th to 35th. The Bulldogs went 22-6 in his 28 games as coordinator after a 4-20 mark the previous two campaigns, and the Eagles made the program's second bowl game and posted their first winning record (2016) since 1995.

FSU became the second team in FBS history to record a double-digit win year (10-4 in 2017) on the heels of a double-digit loss season (1-11 in 2016). The nine-win turnaround was the largest in the country, a feat matched by EMU in 2016 (+6).

"Kalen DeBoer is a proven winner," Allen said. "He has had great success as a head coach and coordinator at every stop and every level throughout his career. Kalen is an exceptional leader of young men and an experienced play-caller who has taken the offenses he has inherited to new heights. Thanks to the incredible support of Fred Glass and our administration we welcome him, Nicole and their daughters, Alexis and Avery, to the IU family."

DeBoer spent four campaigns as offensive coordinator at Southern Illinois University (2010-13) and posted a 67-3 record (.957) in five years as the head coach at his alma mater after he directed the Sioux Falls offense from 2000-04.

"I am honored for the opportunity to join Coach Allen and his staff," DeBoer said. "They are great coaches and master teachers who are passionate about making Indiana football special. I can't wait to get to campus, meet the team and help take this program to the next level."

DeBoer and Fresno State reached unprecedented heights in 2018, as the Bulldogs posted a school-record 12 victories, highlighted by a Mountain West Championship Game win over No. 19 Boise State and a Las Vegas Bowl triumph over Arizona State. FSU ranked No. 18 in the final AP and Amway Coaches Polls, ranked 26th nationally in scoring offense (34.6) and 29th in passing offense (267.1), and produced five all-conference honorees.

Quarterback Marcus McMaryion enjoyed great success under DeBoer's tutelage, as he went 21-4 as the starter. In 2018, McMaryion threw 25 touchdowns (T-26th nationally) and just five interceptions (T-21st) for 3,629 yards (13th, 5th in program history) with a 68.6 completion percentage (7th, 1st). He totaled 3,923 yards (9th, 4th) with 284 yards on the ground and eight rushing TDs.

McMaryion accounted for 3,094 total yards and 18 scores in 2017. Once again, he completed over 60.0 percent (62.1) with 14 touchdowns and five picks. He owns two of the top seven lowest-interception percentage rates in Bulldog history.

KeeSean Johnson, the program's career receptions and yardage leader, ranked fourth nationally with 95 catches and sixth with 1,340 yards in 2018. Both marks ranked fifth in school single-season history, and he also finished sixth in Fresno State lore with 24 career scores.

Jared Rice ranked fourth among tight ends nationally with 55 grabs, seventh with 664 yards to go along with three touchdowns and a 12.1 average per reception.

The Bulldogs finished eighth nationally in team passing efficiency (156.58), tied for 15th in turnovers lost (14), tied for 19th nationally in red zone offense (89.5 percent) and 25th in third-down conversions (44.6).

Up front, FSU's offensive line ranked in the top six nationally in fewest sacks and tackles for loss allowed per game in both 2017 (3rd, 3rd) and 2018 (6th, 5th).
En route to matching the largest FBS win turnaround in 2016, DeBoer's Eastern Michigan offense bested the program's previous total offense mark by over 900 yards (5,917-5,010) and set records for points scored (385), passing yardage (3,849), touchdown passes (25), first downs (303), completions (309) and total plays (999).

His unit collected the second-most TDs (47) and rushing scores (21) in a season, the most single-game total plays (99), and the second-most single-game touchdowns (8) and first downs (35).
DeBoer coached the wide receivers as well at Southern Illinois, where the Salukis topped 10 Top-25 opponents in his four years.
His 2013 offense led the Missouri Valley Football Conference (MVFC) with 231.8 passing yards per game, the fourth-highest total in school history. SIU's 25 passing TDs tied for the third-highest mark in school history.

Tight end MyCole Pruitt was named to the 2013 American Football Coaches Association FCS All-America team, while receiver John Lantz earned All-MVFC recognition.

The Salukis ranked third in the nation with an average of 183.1 rushing yards a contest in 2011. Bryan Boemer was named the Rimington Award winner, which is presented to the nation's premier center.

A three-time NAIA National Coach of the Year at Sioux Falls, DeBoer won four Great Plains Athletic Conference titles, 50-straight home games and 29-consecutive games overall in his final two years. He boasted a 17-2 playoff record, 49-1 conference ledger and appeared in four-straight national championship games (2006-09).

DeBoer coached three NAIA National Players of the Year: quarterbacks Lorenzo Brown (2009) and Chad Cavender (2007), and running back Nick Kortan (2002), and assisted in the development of 25 first-team All-Americans.

An All-American at wide receiver, DeBoer set school records for receptions (234), receiving yardage (3,400) and touchdown catches (33) from 1993-96.

Upon the conclusion of his playing career, he was a student assistant at USF (1997) and an assistant coach at Washington High School in Sioux Falls, S.D., (1998-99).

DeBoer and his wife, Nicole, have two daughters, Alexis and Avery.

COACHING EXPERIENCE
2019-: Indiana – associate head coach/offensive coordinator
2017-18: Fresno State – assistant head coach/offensive coordinator
2014-16: Eastern Michigan – offensive coordinator/quarterbacks
2010-13: Southern Illinois – offensive coordinator/wide receivers
2005-09: University of Sioux Falls – head coach
2000-04: University of Sioux Falls – offensive coordinator
1998-99: Washington H.S. (S.D.) – assistant coach
1997: University of Sioux Falls – student assistant coach/wide receivers