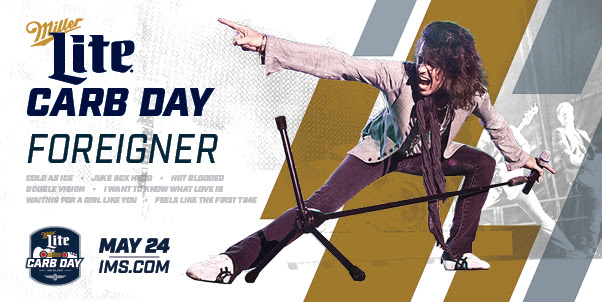 Foreigner, one of the biggest-selling bands in history and creator of some of rock's most enduring hits, will headline the Miller Lite Carb Day Concert on Friday, May 24, 2019 to conclude one of the most exciting days in the Month of May at the Indianapolis Motor Speedway.
The concert starts at 3:30 p.m. on the Miller Lite Stage inside Turn 4 of the IMS oval. An opening artist will be announced in the coming weeks.
Tickets are on sale now at IMS.com , by calling 800-822-INDY or 317-492-6700, or by visiting the IMS Ticket Office at the IMS Administration Building. General Admission prices start at $30. Special Concert Pit access also is available for an additional $20, and a limited number of VIP Deck tickets are available for $250.
All General Admission and VIP Deck tickets include admission to the concert and to on-track activities that day at IMS, which include the final practice for the 103rd Indianapolis 500, the Freedom 100 Indy Lights race and the Indy 500 Pit Stop Challenge.
"Foreigner is one of the most legendary rock bands of all time, with hits loved by millions of fans worldwide," IMS President J. Douglas Boles said. "The band's energetic show, featuring all their sing-along classics, will be a perfect ending to one of the best days of the year at IMS. With this great concert and a full schedule of on track activity, Miller Lite Carb Day again will shift Race Weekend into high gear."
Foreigner's catalog sales were celebrated in the Sept. 13, 2017 edition of Business Insidermagazine as hitting the Top 40 among the best-selling music artists of all time. The Beatles were justifiably No. 1, but Foreigner came in ahead of Britney Spears, Bob Dylan, Phil Collins, Prince, Queen, Bon Jovi and Def Leppard.
With 10 multi-platinum albums and sixteen Top 30 hits, Foreigner is universally hailed as one of the most popular rock acts in the world with a formidable musical arsenal that continues to propel sold-out tours and album sales, which now exceed 75 million.
Responsible for some of rock and roll's most enduring anthems, including "Juke Box Hero," "Cold As Ice," "Hot Blooded," "Waiting For A Girl Like You," "Feels Like The First Time," "Urgent," "Head Games," "Say You Will," "Dirty White Boy," "Long, Long Way From Home" and the worldwide No. 1 hit, "I Want To Know What Love Is," Foreigner continues to rock the charts more than 40 years into the game with massive airplay and continued Billboard Top 200 album success. Foreigner also features strongly in every category in Billboard's Greatest of All Time listing. 
Founded in 1976, Foreigner's debut album produced the hits "Feels Like The First Time," "Cold As Ice" and "Long, Long Way From Home." The album "Double Vision" followed, as did a string of hits like "Urgent," "Juke Box Hero" and "Waiting For A Girl Like You." Those songs helped give Foreigner's next album, "4," its impressive run at No. 1 on the Billboard chart. At the zenith of 1980s sound, Foreigner's fifth album, "Agent Provocateur," gave the world the incredible No. 1 global hit, "I Want To Know What Love Is." This musical milestone followed the record-breaking song "Waiting For A Girl Like You."
At Foreigner's core is the founder and Songwriters Hall of Fame member Mick Jones, the visionary maestro whose stylistic songwriting, indelible guitar hooks and multi-layered talents continue to escalate Foreigner's influence and guide the band to new horizons. He reformed the band after a 2002 hiatus and selected lead singer Kelly Hansen, one of rock's greatest showmen, to help write an inspired new chapter in the history of Foreigner.
Jones also brought in bassist Jeff Pilson, multi-instrumentalist Tom Gimbel, guitarist Bruce Watson, Michael Bluestein on keyboards and Chris Frazier on drums. An unprecedented new level of energy led the group to a re-emergence accentuated by new music that speaks to long time Foreigner fans and younger generations alike.
With renewed vitality and direction, Foreigner hit the Billboard charts again with the 2005 release of their live greatest hits album, "Extended Versions." "Can't Slow Down" followed in 2009 and entered the Billboard chart in the Top 30, driven by two Top 20 radio singles, "In Pieces" and "When It Comes To Love."
Foreigner experienced another surge in popularity when several of their hits were featured on soundtracks for films "Rock of Ages," "Anchorman 2," "Magic Mike," "Pitch Perfect," "Angry Birds," "Kung Fu Panda 3" and "The Hitman's Bodyguard." Foreigner songs also were featured in the Netflix hit shows "Orange Is the New Black" and "Stranger Things," and the band was introduced to new audiences when its songs were featured in the blockbuster video game "Grand Theft Auto V."
2017 marked the celebration of Foreigner's 40th anniversary. The Warner Music Group released a double CD set "40," which includes 40 songs recorded between 1977 and 2017. The album spent nine weeks on the Billboard Top 200 chart, and it features two tracks recorded especially for this release, "Give My Life For Love" and a new version of "I Don't Want To Live Without You.' The US anniversary headline tour played 40 shows across the United States, where the band was supported by Cheap Trick and Jason Bonham's Led Zeppelin Experience.
The band also expanded its fanbase in 2018 with the release of "Foreigner with the 21st Century Symphony Orchestra & Chorus," a live recording of Foreigner's first ever orchestral shows in 2017 in Lucerne, Switzerland. The band launched an orchestral concert series in the U.S. in 2018, also playing orchestral shows in Australia and New Zealand, including an appearance at the iconic Sydney Opera House.
In summer 2018, Foreigner headlined a major Live Nation U.S. tour with Whitesnake and Jason Bonham's Led Zeppelin Evening as support.
"Juke Box Hero, the Musical" launched in August 2018 in Canada, a theater production featuring many of Foreigner's biggest hits.
The 103rd Indianapolis 500 is scheduled for Sunday, May 26, 2019. Tickets are on sale now atIMS.com or by calling or visiting the IMS Ticket Office.